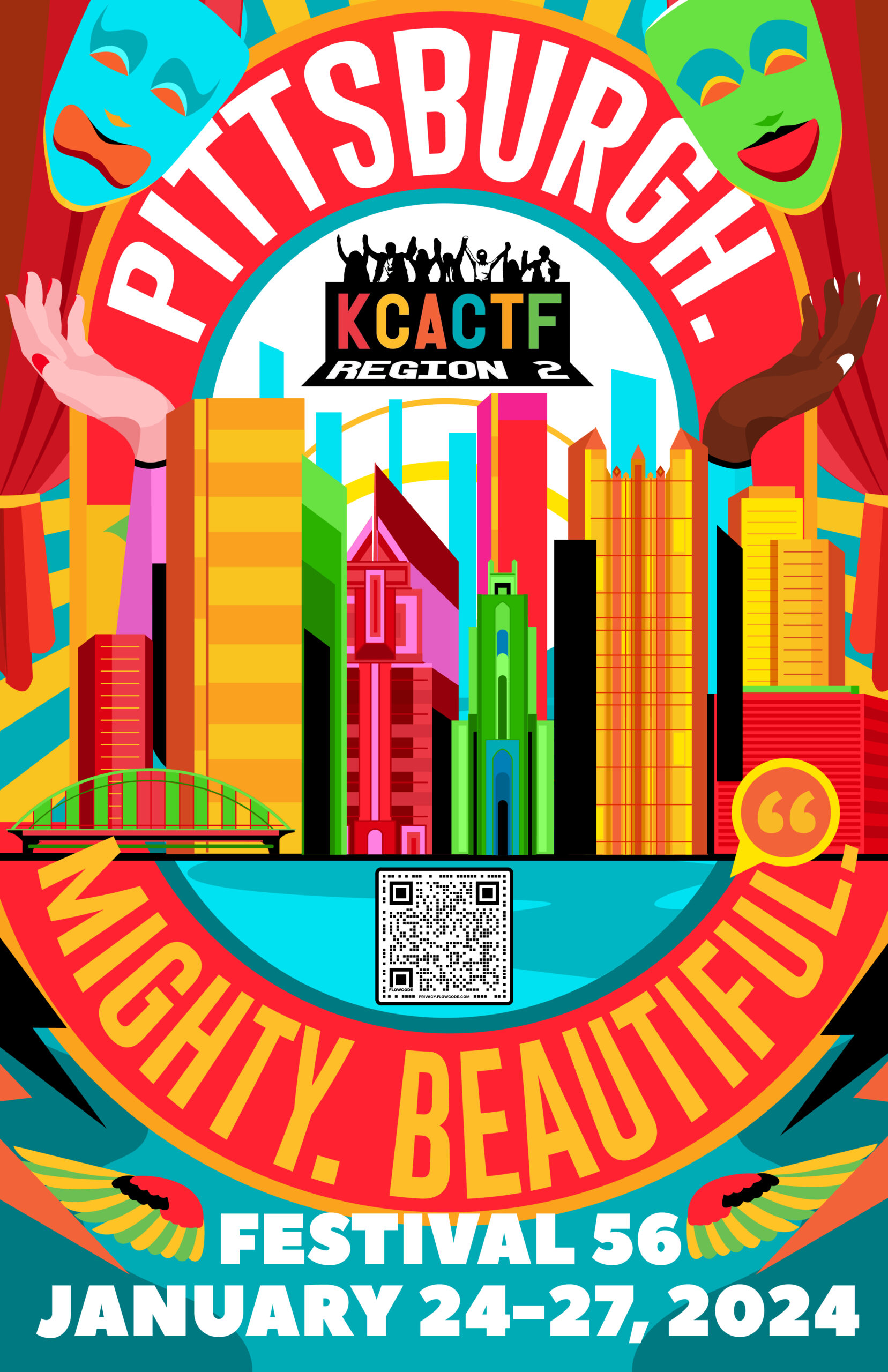 Festival 56
January 24-27, 2024
Pittsburgh PA
DoubleTree Downtown, Pittsburgh Cultural Trust & August Wilson Cultural Center
Land Acknowledgement
Festival 56 will occur on the unceded and ancestral lands of the Haudenosaunee, Monongahela, Osage, and Shawnee peoples.  As a place of history and culture, KCACTF Region 2 recognizes the importance of this land and the People who have stewarded this land throughout the generations.
Click on the link above.  You will need to pay to complete registration.
If you are registering multiple participant and can use a credit card for payment, click above.  You will need to have all of the information for the participants to register them (including e-mail and cell phone).  Once you complete the first registration, the system will allow you to add additional registrants. Do NOT enter your payment information until you enter all registrants.
If you are an institution that needs to register multiple participants but needs an invoice prior to payment, please click here. Complete the form and within 48 hours a Square invoice link will be sent to you.  In addition, you will seperatly receive an e-mail with a registration/discount code, that you can send to all of your participants in order for them to register.  Note: failure to pay invoice prior to in-person check-in will mean that participants will be denied entry to festival.
Call for Workshops and Presentations
Applications are due by December 15th, 2023
This year we are accepting workshop and academic presentations for both in-person and virtual modalities.
Beyond hands-on workshops, we are also accepting applications for academic papers, panels, and presentations.
Workshops & presentations will be tracked by areas and presenters will be notified of acceptance by January 1st.
Anyone chosen to present will be required to register for the festival.
Individual Student Programs and Registrations
Before registering for individual programs, you must be registered for the Festival using the link above (full festival registration required).  Only students from schools that have participated (received a response) during the last school year are eligible for regional and national awards.  If you are unsure if your institution received a response, please reach out to your faculty to confirm.
Acting Scholarship Auditions
Musical Theatre Intensive
Design Technology Management
National Playwriting Program